How Australia inspired Darwin's theory of evolution
Back to
Stories
November 15, 2017
Words
The Wider Earth explores how Darwin stumbled upon his theory of evolution – and the key role that Australia played.
Here's a fun fact – according to the Smithsonian Magazine, it was not the Galapagos Islands where Charles Darwin first started to formulate his paradigm-shifting theory of evolution, but Sydney's Blue Mountains.

When 26-year-old Charles Darwin visited Australia on the HMS Beagle in 1836, the strangeness of our continent's native creatures made him speculate about the ways they had developed in isolation from the rest of the world.

It was in the Blue Mountains that Darwin first saw a potoroo (rat-kangaroo) and a platypus, and noted how they occupied similar ecological niches to – and yet looked very different from – the northern hemisphere's rabbit and water rat. In his diary that night, he pondered why a god would make two different animals for the same purpose.

These musings would go on to inform his seminal book On The Origin of Species; in other words, if Darwin hadn't taken a two-month study break in Sydney, Bathurst, Hobart and King George's Sound, we might still be teaching Creationism in schools. (Well, in all schools.)





Photo: Wikimedia Commons

Seeing a platypus in the wild was a particularly pivotal moment for Darwin, according to his letters and diaries. "We were told from a very young age about the 'platypus moment,' which was a real epiphany for Darwin," environmentalist Chris Darwin, a direct descendant, told Smithsonian Magazine at his home in the Blue Mountains. "It was here that Charles Darwin questioned Creationism for the first time... He came out of the closet, basically."

On the day near Wallerawang when Darwin saw potoroos behaving just like English rabbits, and platypuses behaving like water rats (his companion shot one so he could examine it more closely), he wrote in his diary, "A Disbeliever in everything beyond his own reason, might exclaim, 'Surely two distinct creators must have been (at) work; their object however has been the same & certainly in each case the end is complete' … Would any two workmen ever hit on so beautiful, so simple & yet so artificial a contrivance?"

It was the first time Darwin had ever put such blasphemous and revolutionary thoughts on paper, and it would be pivotal in the development of his theory of evolution. In his book Darwin's Armada, University of Sydney professor Iain McCalman wrote, "It would be one of the great understatements to call this a portentous moment … At no other time on the Beagle voyage did Darwin raise the issue, and afterwards he buried it for a further twenty years."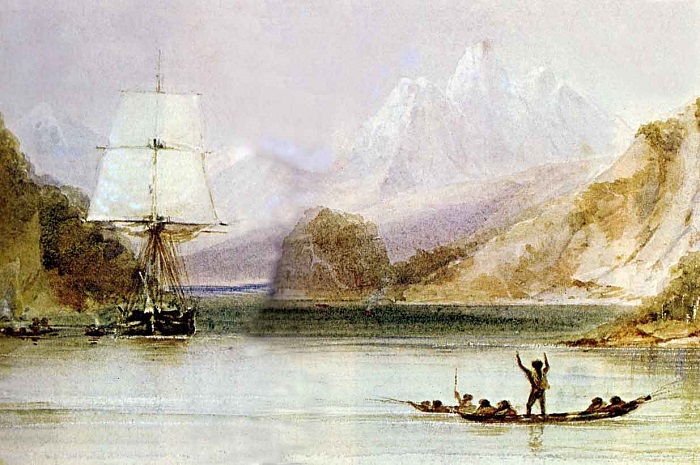 HMS Beagle by Conrad Martens

Today, you can still follow the route that Darwin took to explore Australia's epic scenery and famously odd wildlife, starting at Circular Quay and running out the Great Western Highway to the Blue Mountains, where the path he took has been named the Charles Darwin Walk, and then onwards to Bathurst and back. (Although it's interesting that Darwin's diary reveals he wasn't as enamoured with Australian society as he was with the flora and fauna. Australia was, the naturalist wrote, "an admirable place to accumulate pounds & shillings," but he couldn't abide knowing that many of his compatriots were, "somewhere between a petty rogue & (a) bloodthirsty villain …I leave your shores without sorrow or regret.")

If Darwin's tale of adventure and scientific discovery piques your interest, don't miss Dead Puppet Society's The Wider Earth, a dramatisation of his global voyage on the Beagle with a stunning cast of custom-made puppets and award-winning actors. The Wider Earth is Sydney Opera House between 17 and 27. Check out the trailer below and book here.



---
Nick Jarvis is a journalist, copywriter and Publications Editor at Sydney Festival and Sydney Film Festival. He's written for Vice, Time Out, inthemix, Junkee and various other online media and street press over the years.