Free and affordable events at Sydney Festival 2023
Back to
Stories
January 18, 2023
Words
This year's Festival is stacked with free and affordable events for the budget conscious and culturally curious.
If you spent the holidays freely tapping your card all around town, your January budget might be looking a bit lean. Never fear: the 2023 Festival is well stacked with free and affordable events for the budget conscious and culturally curious. Dive in below for Festival highlights that won't break the bank.

And don't forget – you can head to our Tix for Next to Nix page every day from 9am-10am to nab $26 same-day tickets to almost all Sydney Festival events, subject to availability. That is a stone-cold, red-hot, and apparently laws-of-science-defying bargain.


Visual Arts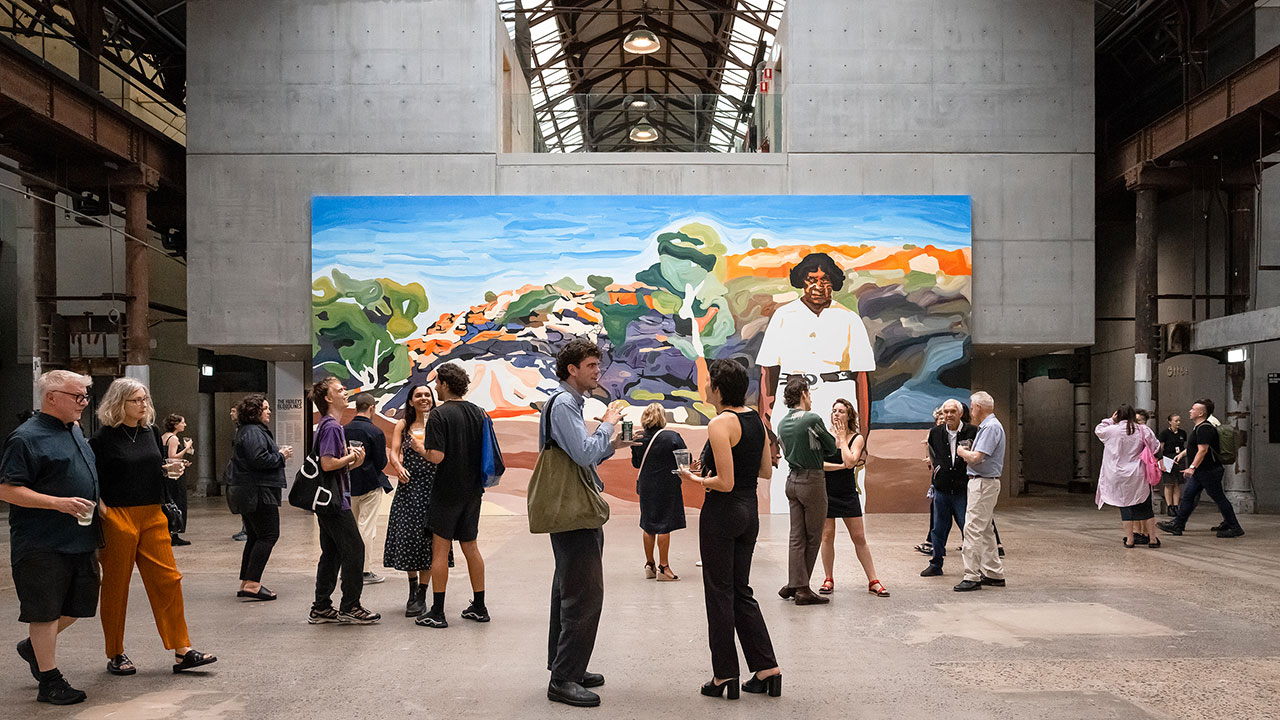 Begin your tour of free art at the intimate Brett Whiteley Studio in Surry Hills for Brett Whiteley: Eternity Is Now. The collection showcases the incredible breadth of Whiteley's career, including his self-portraits, sketches and paintings from his New York years and two significant 1963 works, The blue bathroom and Nude beside the basin, publicly exhibited in Australia for the first time.

From there, it's a speedy bus ride across to Carriageworks for a host of stimulating freebies. The Huxleys: Bloodlines is a multi-art form exhibition honouring and worshipping legendary artists lost to HIV/AIDS, curated by multidisciplinary artist Jacob Boehme and featuring large scale photographic work, video art and music.

Covering the walls of Carriageworks' public space, Thea Anamara Perkins: Stockwoman (above) is the Arrernte and Kalkadoon artist's most ambitious work to date. In Bay 21, you'll find Paul Yore: WORD MADE FLESH, a major immersive installation by one of Australia's most important multidisciplinary artists, which smashes multiple visual art forms together to imagine a queer alternative reality.

Across the Harbour Bridge at Mosman Art Gallery, you'll find Ernest Edmonds: The Colour in the Code, an interactive "essay on colour" created by the award-winning Mosman artist using computer code. Go deeper in Prisms of Influence: Echoes From The Colour in the Code, featuring other artists whose work interacts with Edmonds'.
Music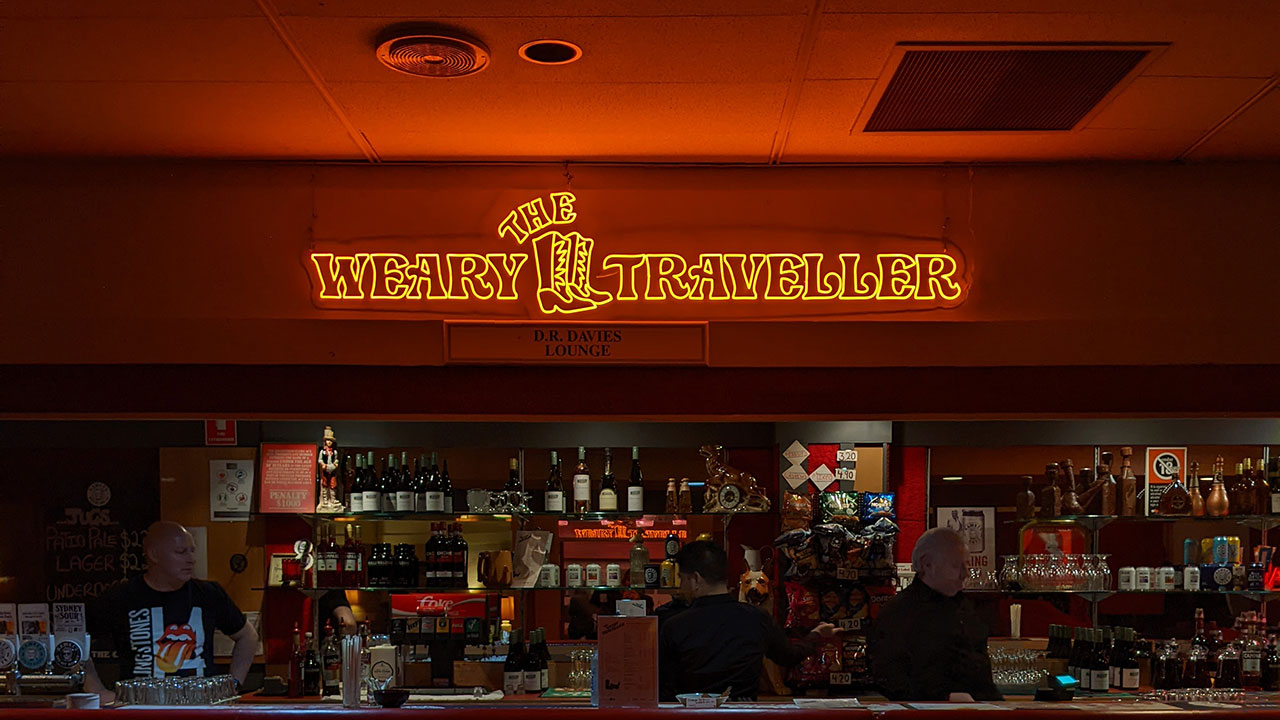 If you're eager for a music fix on a tight budget, this is your month to shine. Seymour Nights at Sydney Festival takes over the leafy Seymour courtyard until 22 January, offering free gigs at dusk from the likes of Montgomery Church, the Dollar Bin Darlings and Elana Stone. Check out the schedule here.

If you're out in the city and need a nightcap, get on down to the time-warping basement bar at the CTA Business Club for The Weary Traveller After Parties (10pm to midnight). Entry is free, the booths are comfy and the decor is straight out of a 1970s mood board. Selectors include Carolina Gasolina, Nes, Jack Shit and FBi DJs - plan accordingly.

For a starlit evening of orchestral classics with a Lunar New Year twist, all roads lead to the west on Saturday 21 January. Sydney Symphony Under The Stars at Parramatta Park is now a permanent musical fixture on the Festival's annual calendar, complete with a rousing firework finale. This symphonic celebration is free and unticketed, so pull up a patch of grass.

On Saturday 28 January, the Australian National Maritime Museum will host the New Beginnings Festival. Featuring artists from over 70 cultures, the festival promises global food stalls, live performances and DJs, kids entertainment and market stalls by entrepreneurs from refugee, migrant and Indigenous backgrounds.


First Nations
On the evening of Wednesday 25 January,
Vigil: Awaken
will transform the shoreline of Barangaroo Reserve and reawaken the spirit of this sacred First Nations site. Ceremonial smoke, flares, music, light, performance and narration will intertwine to create a dramatic and mesmerising multimedia art piece you won't soon forget.
Also at Barangaroo, the exhibition
Naabami (thou will/shall see): Barangaroo (army of me)
features large-scale photomedia portraits of contemporary First Nations women and girls by Indigenous artist Brenda L Croft.
Dyin Nura (Women's Place)
(19-22 January) projects highlights from the same commanding portrait photography series across Old Government House Parramatta, illuminating the site's enduring significance for First Nations women.
It's a beautifully designed multimedia experience set to a great soundtrack by Emma Donovan, which also features an evening of live performance from Donovan and Jannawi Dance clan on Friday the 20th.
Take The Kids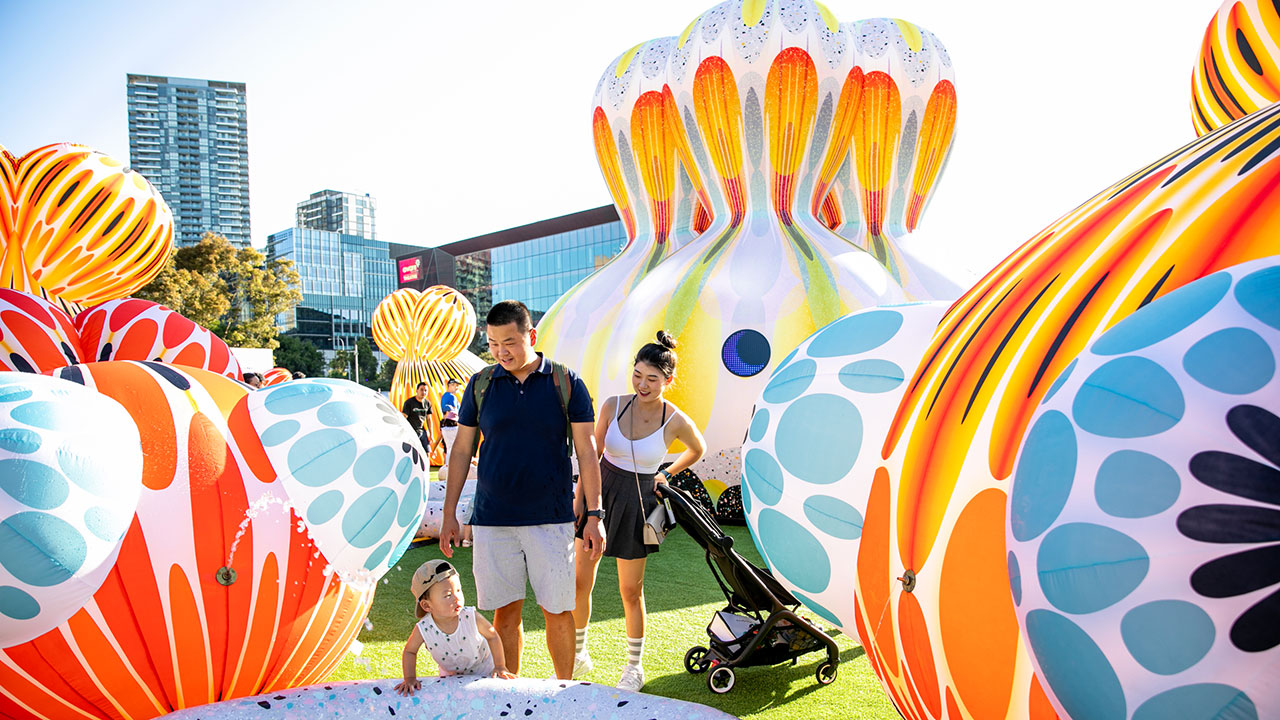 To make the most of summer as a family, head to Tumbalong Park for
Cupid's Koi Garden
, a six-metre-tall immersive water-play installation for young and old alike. More inflateable outdoor fun awaits in South Eveleigh at
Jenny Kee: The Aunties
, where you can get up close and personal with a playful pair of anthropomorphic beings (Auntie Marge and Auntie Una to you) inspired by Australian fashion maven Jenny Kee.
Strolling through the city and you might just encounter
Tip Duck
(18-22 January, various locations), AKA a larger-than-life, rubbish-collecting ibis named Ibsen, roaming at large.
In addition to those free happenings, a selection of pocket-money-friendly events are dotted around the inner city.
Shipwreck Odyssey
at the Australian National Maritime Museum (until 26 January, $15 +BF) combines live storytelling and performance with a responsive projection playscape that takes kids beneath the surface of the sea.
Also at the Maritime Museum, kids and kids-at-heart will relish
Brickwrecks: Sunken Ships In LEGO® Bricks
(until 26 January, $15-$25), which brings shipwreck stories to life using, you guessed it, intricate LEGO® models.
Staying on the aquatic theme,
Erth's Shark Dive
at the Australian Museum ($15 + BF) is a dark and mysterious shark cage dive experience, with large-scale sea creatures by puppet masters, Erth.
Unusual experiences
The Air Between Us
(20-22 January) is a family-friendly, inspiring movement work soaring above the Museum of Contemporary Art's front lawns. Marvel as collaborators Chloe Loftus and Rodney Bell present a mesmerising aerial duet, utilising a unique rigging and counterweight system.
Prefer to tickle your eardrums and investigative side? Get along to
Message Bank
at Parramatta Square (13-21 January), a brain-twisting 45-minute immersive audio experience from Parramatta based creative studio Operated Coin.
Or you can shut yourself inside the cosy safe room at Kimpton Margot Sydney for Alabaster DePlume's
In Chamber
($29 +BF). A celebrated jazz musician and poet, DePlume has prepared an enveloping sound piece to be experienced in isolation - strictly one person per session.