How to tackle Sydney Festival's opening weekend
Back to
Stories
January 4, 2018
Words
It's here! The Festival kicks off this weekend with the grand opening of the Meriton Festival Village in Hyde Park and the brand new Village Sideshow, as well as the first of our big international blockbuster shows taking place all over Sydney.
We've got some hot tips on how to tackle opening weekend, including where to find the freebies and which shows you absolutely can't miss. Read on!
Morning of Saturday 6 January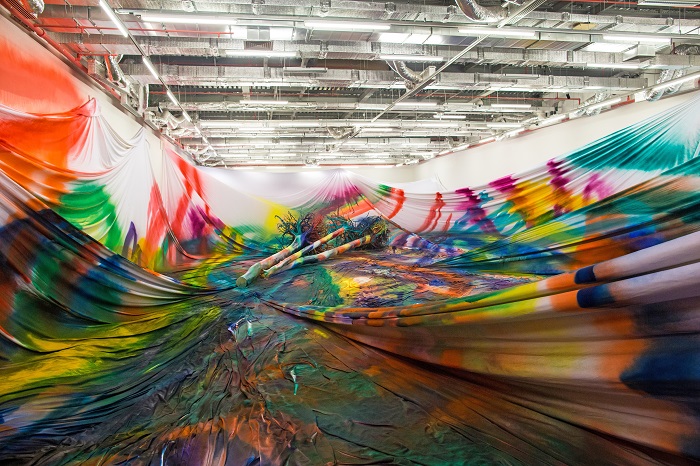 German artist Katharina Grosse creates epic, otherworldly environments using immense reams of fabric and spray paint, and for the whole of Sydney Festival, she's transformed the industrial interior of Carriageworks into a sublime and colourful world constructed from 8000 square metres of fabric. Swing by Carriageworks to check out the work, which is called The Horse Trotted Another Couple of Metres, Then It Stopped (and while you're there, get acquainted with our upcoming About an Hour program).

MORE ABOUT KATHARINA GROSSE
Afternoon of Saturday 6 January
Here's a hot tip – for today only, between 4.30pm-8pm, everything is FREE at the Village Sideshow presented by China Southern Airlines. That means you can try out the wild virtual reality
Ghost Train
, take a spin on the
Karaoke Carousel
and party in a shipping container at
10 Minute Dance Parties by JOF
, and save yourself a cool $20 (plus check all the other free art installations dotted around the Village Sideshow).
MORE ABOUT THE VILLAGE SIDESHOW
Evening of Saturday 6 January
From the Meriton Festival Village in Hyde Park it's an easy walk to Barangaroo Reserve to check out our major art installation
Four Thousand Fish
. Aim to arrive after 7pm to see the installation in its full glory – a beautiful steel recreation of a traditional
nawi
bark canoe with a fire lit inside, slowly melting frozen fish sculptures and returning them to the harbour.
MORE ABOUT FOUR THOUSAND FISH
Morning of Sunday 7 January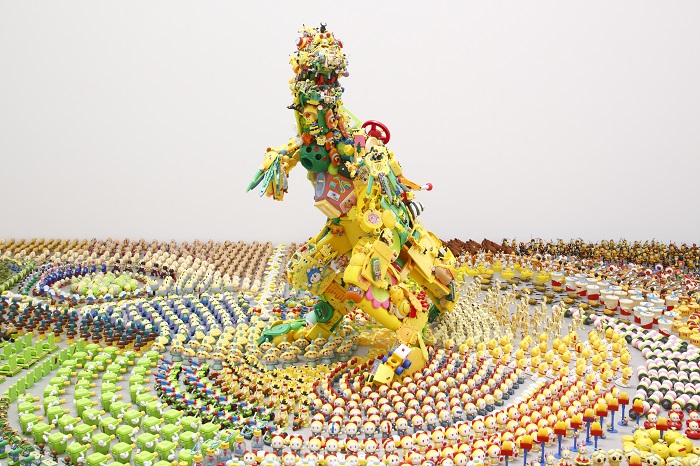 Add an art chaser to your Sunday brunch session and check out Jurassic Plastic, the massive and colourful art installation of dinosaur sculptures made from discarded plastic toys by Japanese artist Hiroshi Fuji. It's free, and it's at Sydney Town Hall.

MORE ABOUT JURASSIC PLASTIC
Afternoon of Sunday 7 January
Book in the 4pm session with Danish musical innovators Between Music, whose latest work
AquaSonic
– years in the making – uses brand new scientifically-designed instruments to perform eerie, ethereal music underwater. After the show, the artists will be on hand for a half hour Q&A with the audience thanks to the
Sydney Morning Herald
.
MORE ABOUT AQUASONIC
Evening of Sunday 7 January
You can still score tickets to the Australian premiere of The Wooster Group's latest experimental theatre work
The Town Hall Affair
, directed by Elizabeth LeCompte and using film projection and on-stage live action to explore a 1971 debate on women's liberation – and where feminism is at today. If you're looking for a killer water cooler topic for Monday morning, live theatre beats Netflix every time.
MORE ABOUT THE TOWN HALL AFFAIR