Your night at The Weary Traveller
Back to
Stories
December 19, 2022
Words
Everything you need to know for a great time.
The Elevator Pitch
Deep in the roots of Martin Place's iconic Seidler mushroom building, there is a hidden gem of Sydney nightlife, a buried bastion of 1970s bar culture, and your new favourite haunt after dark.
Unpretentious and unrenovated, history lines the walls and so does the original red carpet at
The Weary Traveller
, Sydney Festival's live music takeover in a rare retro find.
We're cramming new music, new faces, new ideas and lots of new speakers into a treasured old space. Expect eclectic, cutting-edge programming, from pop to metal and everything in between, with plenty of opportunities for a dance. 
The Stats
· 16 nights in January, Thursday - Sunday
· 34 live music acts, homegrown and international
· 10 local DJs, for the free after parties
· Limited capacity – we're keeping it cosy
· 6 lush red booths
· 8,247ish excellent new memories
The Venue
The Weary Traveller sits below ground within the Commercial Travellers Association. A modernist mushroom or spaceship-on-a-stick of a building, depending on your perspective, designed by the famous Sydney architect Harry Seidler as part of the MLC Centre.
It houses a subterranean bar and bistro, whilst upstairs hotel rooms line the circular corridor, their panoramic curved windows looking out onto the surrounding CBD. Completed in 1977, more than forty years later the building remains almost exactly as Seidler conceived it.
Here's what some people had to say about this precious piece of local architecture and history...
"It's a bygone era captured forever like an insect in amber" -
Time Out
"A fungus growing in the shadow of the MLC Centre"
- Also Time Out
"I loved that place in the 70s!" -
Someone's dad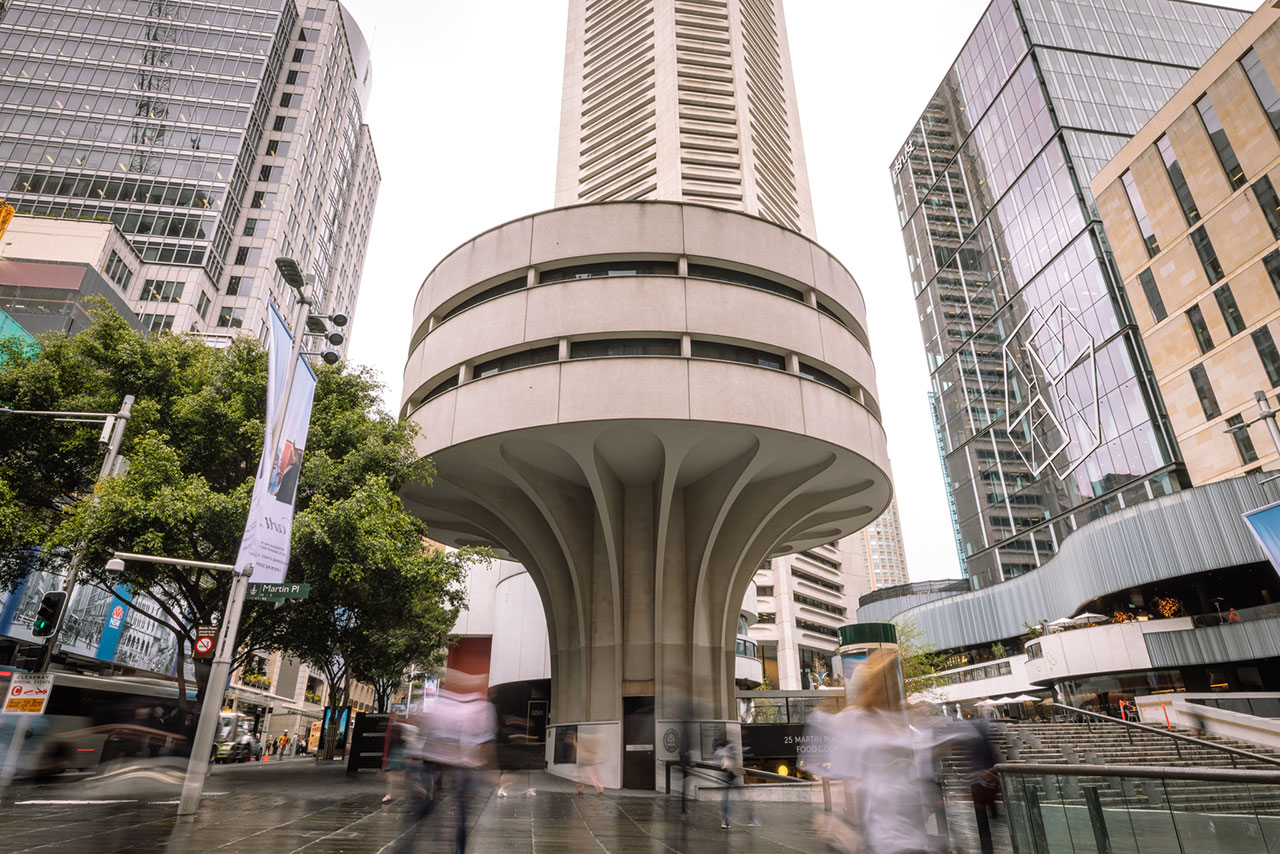 The Music
Look alive, you're dancing along the cutting edge of modern music here. And whilst it's hard to shove these eclectic artists in genre boxes, we thought a bit of guidance and grouping might help you decide which acts are your vibe.
Beats and grooves
Moktar
– Unusual yet irresistible dancefloor beats from an Egyptian/Australian artist on the rise.
Astral people ft. Or:La and Elkka
– Australia's most trusted party-starters host two bright lights of UK club culture.
Kaitlyn Aurelia Smith
– Critically acclaimed American synth master weaves a sonic masterpiece, live.
Lil Silva
– Purveyor of low slung, sophisticated UK grooves; collaborator to the greats, from Diplo to Little Dragon.
Alt-pop and ballads
Tom Snowdon
– Timeless electronic ballads reimagined by an essential contemporary voice.
June Jones
– Crisp and colourful electropop from a trans woman with a wicked sense of humour.
HTRK
– Spectral electro and quiet storms of tension and transcendence from this Melbourne duo.
Alice Skye
– Powerful indie pop to warm the heart, from a proud Wergaia/Wemba Wemba woman.
Rock out
Automatic
– LA post-punk trio puts a futurist spin on retro sounds. SOLD OUT
Coloured Stone
– The iconic and indefatigable Indigenous Australian reggae-rock band.
Heavy and experimental
Too Birds
– Hard-hitting industrial beats and left-field hip-hop from three multi-talented rappers and producers.
Potion
– Hypnotic, distorted and dense doom metal from a Sydney trio known for blistering live sets.
Party Dozen
– Experimental noise band known for epic sax solos and a Nick Cave collaboration. SOLD OUT
The kick-ons
No getting swept up towards the exit along with the empty cups and gum wrappers as soon as the headliner finishes – The Weary Traveller stays open for another two hours post-gig. Chill out in the lush booths or have a dance to whatever audio gold the after-party DJs are dishing up. 
On the DJ roster for the afters: Jack Shit, Dusty Fingers, Carolina Gasolina, Nes, FBi Radio DJs and more.
Entry during this time is free, so whether you were at the gig and want to keep it going, coming in hot after another Sydney Festival show nearby, or just mooching about the Sydney CBD looking for a good time, The Weary Traveller is what you need.


The Planning
Getting there
The Weary Traveller is easily accessible by public transport. The closest train station is Martin Place, about one-minute's walk away, or walk 8 minutes to Town Hall for more connections.
Every bus and his dog rolls down the nearby Elizabeth and Castlereagh streets, including the 333 from Bondi, 343 from Kingsford and 461X express from Burwood. Circular Quay ferries are a 10 minute-walk away, and the closest light rail stop is Wynyard.
If you're driving, park in the nearby Wilson Parking – Angel Place Car Park at 123 Pitt Street. Nab a 10% discount off the parking price by booking online at bookabay.com.au using the code SYDFEST23.
When to arrive
7pm: Doors open
7.30pm: Support act starts
8.30pm: Headliner starts
9.45pm: Headliner finishes
10pm–midnight: Free entry, DJs, drinks and general basement bar shenanigans
*Venue stays open until 2am (with no free entry) for Astral People party on the 6th of Jan.
What to wear
Whatever you want. Dress up, dress down, dress in a duck suit. This is a safe space.
Food and drinks
Bar food will be available, with a 70s-inspired menu to be announced soon. Drinks are available behind the bar all night, with last drinks called 15 minutes before the venue closes. Expect the usual suspects.
Anything else?
You may see signs in the mushroom for
The Lucid: A Dream Portal to Awakening
.
This is the introspective, slightly trippy, once-in-a-lifetime overnight soundscape experience by Kelsey Lu we have installed in all the hotel rooms above. Find out more
here
.
The Weary Traveller
is 18+ only. Creep-behaviour will not be tolerated. Be respectful, be kind, be your best self.